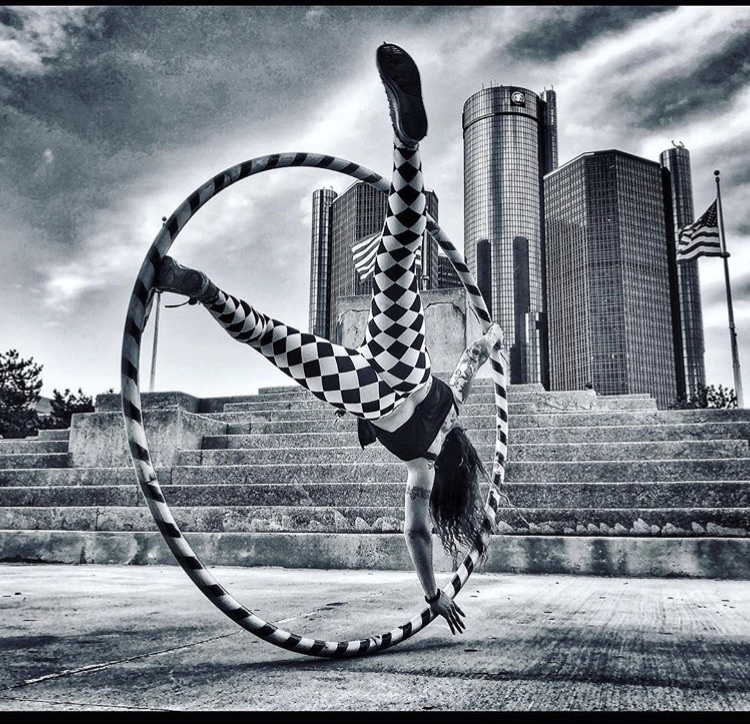 Allison Ottjepka, Cyr Wheel Artist

DOWNLOAD FULL BIO HERE!
Photo Credit: @dammitgracie777
@wherethewheelgoes

ABOUT SPINNOVATION DETROIT
Hello from Spinnovation Detroit!
Our purpose is making Cyr wheel accessible to all those interested!
Spinnovation Detroit's passion is to provide you with all the tools to get spinning!

We offer Private Lessons, Split Lessons, and Group Lessons along with Additional Training Time and Open Spins. Spinnovation Detroit also hosts Cyr Wheel Series Classes and Workshops.
Spice up your special event with one of our Cyr Artists for your visual entertainment!

Our schedule at Spinnovation Detroit is Flexible! Feel free to contact us anytime to schedule your next spin!
Spinnovation Detroit's home base is currently located inside Looking Glass Studio, 5531 E 8 Mile, Warren, MI. Here at our studio we have both indoor and outdoor training space available!
Have your own training Space? Want to bring Cyr Wheel to your community, gym, school, or local studio? We'll come to you!
Spinnovation Detroit is fully equiped with our very own mini bus to transport the entire wheel inventory!
ABOUT FOUNDER ALLISON OTTJEPKA
Local Detroit Chef Allison Ottjepka turned Cyr Wheel Performing Artist Founder and CEO of SPINNOVATION DETROIT
At the age of 15 Allison started working & training in the culinary arts. Around this time, she turned to Hula Hooping as a core strengthening exercise to combat scoliosis. Hula Hooping for strength quickly turned into a love for Fire dancing, Lyra, and other Flow arts. Her passion for hooping and flow arts existed through local band jams, music events, and festivals when she wasn't busy catering them.
At age 22, Allison was introduced to Cyr Wheel for the first time, after a local band practice, one of her band mates said, "Alli Check out this Hula Hoop video on the internet", and Allison's Cyr Wheel Adventure began. The journey first sparked with attempts to forge her own wheel, searching for teachers, classes, and other artists. After much research Cyr Wheel Instructor Sam Tribble, former Olympic Gymnastics Coach and participant was found. Sam Tribble offering formal Cyr Wheel instruction, and the most efficient teacher training though his program PAT (Progressive Axis Training) was thrilled to take Allison on as a student.
After her first training session in California, Sam and Allison continue to travel between California and Michigan to train quarterly. Allison is currently PAT level 2 certified, spinning towards level 3. Knowing there was no resource for Cyr Wheel in Michigan, Allison founded Spinnovation Detroit – a Cyr Wheel Training and Entertainment Company. Allison Ottjepka is the leading Cyr Wheel Performer and facilitator in the state, and CEO of Spinnovation Detroit. With a large Wheel inventory of all sizes, Spinnovation Detroit is available for anyone to learn how to spin for fun and exercise. As the Cyr Wheel community grows in Michigan, Allison is busy full-time training, teaching, performing, and hosting Workshops. Outside of Instruction and Entertainment Allison is involved with multiple artist collaborations, ie, "Where the Wheel Goes" – "Urban Spin Adventures."
Allison Ottjepka, Cyr Wheel Artist
Video Credit: @dammitgracie777


TRAINING AND CERTIFICATIONS
Founder, CEO and Operator of Spinnovation Detroit-a Cyr Wheel Workshop Training Center
Founder Where the Wheel Goes
Training Workshop- MSA Sports Spot, Grand Rapids, Michigan (April 6, 2019)
Advanced PAT Training- Current and ongoing (2019)
Certified Global Cyr Wheel Artist to Teach and Train (one of only 10 nationally)
Trained with US Olympic Gymnast and professional Cyr Wheel Artist, Sam Tribble at the Cyr Wheel Institute 2016-2019
Competed in America's Got Talent – 2018
Instructed Cyr Wheel Performance at Lakeshore High School - 2018
Performed at The Detroit Presbytery Women's Retreat – 2018
Featured at After Six on Kercheval Summer Event- 2017-2018
Performed at The Wyandotte Street and Art Fair – 2017
Performed at The Rochester Hills Summer Festival – 2017
Performed at The West Bloomfield/Orchard Lake Street Fair - 2017
Featured Artist on Fox 2 News - 2018
Featured on Local 4 News - 2019
clickondetroit.com/live-in-the-d/check-out-a-new-way-to-workout-with-spinnovation-detroit-and-red-effect-fitness
Featured on The Chronicle News - 2022
Seizing the Opportunity, Alli Ottjepka becomes an Opportunity Arts Affiliate
Allison Ottjepka, Cyr Wheel Artist
Video Credit: @dammitgracie777